Welcome to The Good Life Well Lived podcast, today in episode 54 I am talking about accepting yourself just as you are.
Do you remember when Mr Darcy famously declared to Bridget Jones that he liked her 'just as you are'? I'm going to encourage you to do the same.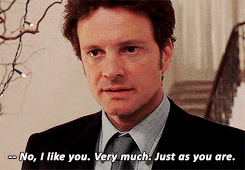 We spend much of our time trying to fix ourselves when actually nothing is broken. What would it feel like if we accepted ourselves exactly as we are?
In this episode I share insights and exercises to help you appreciate yourself for the perfectly imperfect person that you are. You can expect a greater appreciation for yourself, your talents and even your quirks.
Links Mentioned In This Episode
Episode 8 – How to Tame Your Inner Critic With Jess Baker
If you enjoyed today's episode, please share it using the social media buttons at the bottom of this page.
I would also appreciate if you could leave an honest review and rating for the podcast on iTunes. It will only take a few minutes. I read every single one and I would love to hear what you think. Reviews help to get more ears listening in to the podcast, which will allow me to share The Good Life Well Lived message to a wider audience.
And don't forget to subscribe and I will update you when a new episode is live:
Until next time,
Nx